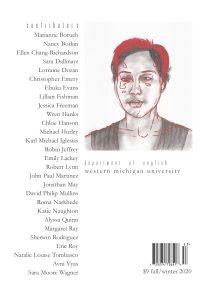 Annnnnd we're back! Issue number 50 is out to our subscribers, and is now available through our Submittable page as well. This issue features our 2020 poetry contest winner Margaret Ray ("While Wandering in Montreal, I Mistake Desire for That Feeling You Get When You Actually Want to Be Another Person") and our fiction contest winner Emily Lackey ("Matrilineal"), as well as our Herbert Scott Poetry Award winner Christopher Emery ("Almost in Disbelief"). Get it here:
https://thirdcoastmagazine.submittable.com/submit
In other news, our hiatus is over! We'll be back open for submissions in a few weeks, reading for issue 51. More on that soon!